10Gbps Ethernet Emulator
IPNetSim™
(IP Network / WAN Emulator - 1 Gbps, 10 Gbps)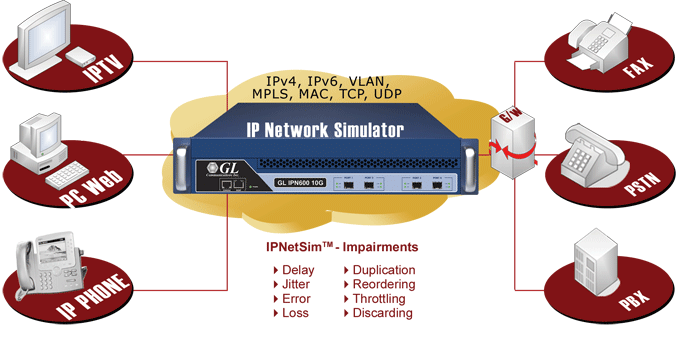 Overview | Main Features | Link Emulation | Packet Classifier
CLI Interface | Recorder | Graphs | Product Types | Specifications | Buyer's Guide
---
Overview

IPNetSim™ is an IP network simulator that simulates impairments commonly found in IP Networks, such as bandwidth constriction, congestion, packet jitter, packet delay, packet bit errors, packet loss and other conditions. It can be used to test IP end point devices such as Gateways, IADs, IP phones, Soft phones, & so on for voice, fax, data, or multimedia transmission over IP.
The new IPNetSim™ IPN600 series (IPN601 1Gbps Model and IPN610 10Gbps Model) offers 1 or 10 Gbps multi rate capability with four 1 or 10 Gbps SFP+ ports, supporting both 10 Gbps SFP+ and 1 Gbps SFP. With a capacity of up to 4 or 40 Gbps, the IPNetSim™ IPN600 series Network Emulators can simulate two separate 10 Gbps (or 4 Gbps) full-duplex links.
The IPNetSim™ Series IPN010, IPN100, and IPN400 differ from the IPNetSim™ Series IPN600 in the number of paths (also called streams or links) that the Emulator Engines (EEs) can support per pair of interfaces. The lower series have one path per EE, one for each direction. The higher series can have up to 15 paths per EE, 15 for each direction.
The IPNetSim™ network emulator is usually configured through the browser-based IPNetSim™ GUI (Graphical User Interface). In addition to the GUI, the IPNetSim™ network emulator includes a command line interface (CLI) that can be accessed via a serial console port or over the network using Telnet or SSH. The CLI can be used to set the IP address of the management interface if the GUI is not accessible over the network, and to modify emulated link conditions for integration with scripting and test automation tools.
GL also provides handheld variation of IPNetSim™, IPNetSim™ Handheld, which is a portable battery operated instrument that can simulate the real-time IP and Carrier Ethernet network dynamics by means of hardware controlled packet delay, loss, jitter, errors, bandwidth limitations, congestion, and duplication. IPNetSim™ Handheld offers to manage network behaviors of up to 1 Gbps rates with accuracy always better than 1ms. It is equipped with hardware based impairments generator, and dual GbE ports. For more information visit IPNetSim™ Handheld page.
---
Main Features
Supports aggregate capacity of 40 Gbps - two pairs of SFP+ ports - can simulate two separate 10 Gbps full-duplex links - each emulation engine can simulate up to 15 different links.
Accurately simulate links from 100 bits per second up to 10 Gbps. Also available in a 1 Gbps version for users who need to emulate many lower speeds links or want the flexibility to upgrade to 10 Gbps later.
Supports 10 Gbps SFP+, 1 Gbps SFP, 1/10 Gbps dual-rate SFP+ transceiver, as well as 1 or 10 Gbps direct attach cables.
Each emulation port is limited to a packet processing rate of 4.25 million packets per second and an aggregate limit of 17 million pps.
Easy-to-use GUI provides the responsiveness of an application with the convenience of a standard web browser.
Packets assigned to individual link by any combination of IP address, VLAN, MPLS label, port number, or any other packet field.
Emulate latency in constant, normal or uniform distribution in either direction. Emulate jitter using either the normal or uniform distribution.
Emulate Packet loss in each direction can be specified in a single value, periodic loss, burst loss, or as bit errors (BER) of values of 1x10-18 or greater; supports packet duplication, contents of received Ethernet frames
Emulates dynamically changing WAN conditions like link outages, variable bandwidths links, route flapping, satellite rain fade, and wireless interference with high-flexibility
View and download up to 24 hours of throughput graphs and link statistics; self monitoring indicators to verify resources.
Capture and reproduce the conditions of a live network link with record/playback functionality
---
Link Emulation - Emulation Engines, Paths
The IPNetSim™ functions as a layer 2 bridge connecting two LAN segments, forwarding packets received on one port across to the other port and applying the configured emulation conditions between a pair of Ethernet ports.
Each of two 10 Gbps Emulation Engines can be turned on or off independently. When emulation is off, all packets are forwarded directly between the Emulation Engine's two ports, bypassing any emulation.
Up to 15 separate paths (emulated WAN links) may be configured within each Emulation Engine. Each path consists of three components: a WAN link and a WAN access device on either side of the WAN link. The WAN access device is usually a router, but can also be a cable or DSL modem or other type of device that connects an entire site or a single user to the wide-area network. The WAN link can be any type of wide-area network connection between two sites including terrestrial private lines, shared networks such as the Internet, and specialized satellite or wireless networks.

Two separate Emulation Engines, each with 15 paths between each pair of ports

Screenshot of Path Components

Screenshot of Pont-to-Point Line

Screenshot of Cloud Network
---
Packet Classifier
Classifiers are set of rules that specify which packets are sent over which paths. Each port has its own classifier to direct the packets that arrive on that port. Each classification rule includes an action that specifies whether matching packets are sent over one of the configured paths, dropped, or forwarded without emulation.
One can classify packets by
IP source and destination address range,
IPv6 address
VLAN ID and PCP (priority code point) value in the IEEE 802.1Q VLAN tag
MPLS label
MAC address
TCP or UDP port number
or Raw Data classification based on any part of packet contents or combination of well-known fields

Screen Shot of Packet Classifier
---
Command Line Interface
The IPNetSim™ provides a command line interface (CLI) in addition to browser-based graphical user interface that can be accessed via the CONSOLE interface or through a Telnet or SSH connection. CLI allows integration with test automation tools.
It provides the following subset of the functionality available in the IPNetSim™ GUI:
Configure emulation parameters of any path
Turn emulation on or off for any engine
Configure the management IP address, subnet mask, and default gateway
Following management and troubleshooting features are only available through the CLI:
ARP and PING commands
Reinitialize the unit to factory settings
---
Recorder
The IPNetSim™ Recorder is a Windows-based utility available at no charge to IPNetSim™ users. The IPNetSim™ Recorder sends ICMP Echo Requests from the PC on which it is running to a specified destination on the other side of the network, then records the reported records the delay and loss characteristics of a wide-area network link to a file. It can probe the link up to ten times per second and record up to 100,000 data points. It is used in conjunction with the IPNetSim™ (WAN emulator) recording playback functionality. The data saved by the Recorder can be reviewed and edited.

Screen Shot of Recording Administration
---
Graphs
Throughput graphs of traffic over any path are shown in the main window. The graph can show the throughput in either direction of a path or both directions together. Throughput for traffic that bypasses emulation can also be graphed.

Screen Shot of Throughput graphs
---
Product Types
IPN601 - IPNetSim™ - 1000 /100 /10 Mbps, 4 ports
Max. Emulation Rate up to 1GB/s full duplex
Max. Packet Rate - 17,000,000 packets per second aggregate
4x SFP+ Dual Rate 1/10 Gbps auto-negotiate

IPNetSim 601 1G Front Panel
IPN610 - IPNetSim™ - 10,000 / 1000 / 100 / 10 Mbps, 4 ports
Max. Emulation Rate up to 10GB/s full duplex
Max. Packet Rate - 17,000,000 packets per second aggregate
4x SFP+ Dual Rate 1/10 Gbps auto-negotiate

IPNetSim 610 10G Front Panel
IPNetSim™ Models - Comparison Table
Features
IPNetSim™
IPNetSim™ 6XX (NEW)
Emulated WAN links (per port pair)
1
15
Port pairs per unit
IPN010: 1
IPN100: 4
IPN400: 4
IPN601 1G: 2
IPN610 10G: 2
Interface Type
IPN010:

2 x 10/100/1000 baseT Gigabit Ethernet

IPN100, IPN400:

4 x 10/100/1000 baseT Gigabit Ethernet and 4 x SFP Gigabit Ethernet
4 x SFP+
(1/10 Gbps auto-negotiate)
Max.Packet Rate
17,000,000 packets per seconds
Packet filtering
N/A
Source and destination IP address
Source and Dest. IPv6 address
VLAN ID and PCP value
TCP/UDP port numbers
MAC address
MPLS label
Any arbitrary packet field
Bandwidth emulation
300 bps to 1 Gbps
300 bps to 10 Gbps
Latency & Jitter
0 ms – 10,000 ms in 0.1 ms increments
Constant, uniform, normal distributions
Packet Loss Models
Random, BER
Random, Periodic, Burst, BER
Packet Corruption
Packet Reordering
Packet Duplication
Queue Management
Tail drop
Tail drop, RED
Random early detection (RED), also known as random early discard or random early drop
ToS Prioritization
FIFO, Strict Priority, Round Robin
Access link rate control
Out-bound
In-bound and out-bound
Live condition capture and replay
Background utilization
Jumbo frames
Statistics download
24 hours
Throughput graphs
Previous 10 minutes
24 hours reviewable with pan and zoom controls
Self-monitoring indicators and warnings
Full CLI
SSL and SSH secure access
Multiple users with configuration locking
---
Specifications
Capacity
Max. Emulation Rate
Available in 1 Gbps and 10 Gbps versions. Emulate any speed up to licensed maximum.
Emulation Engines
2
Max. Aggregate Throughput
40 Gbps
Max. Packet Rate
17,000,000 packets per second aggregate
4,250,000 packets per second per port
Maximum Frame Size
9 KB
Primary Emulation Settings
Packet Classification
IP source and destination address range
IPv6 source and destination address range
VLAN ID and PCP prioritization value
TCP or UDP port number
MAC address
MPLS address
Any arbitrary field specified by layer, offset, length, and mask
Bandwidth
100 bps to max. license speed (1 Gbps or 10 Gbps) in 1 bps increments
Latency & jitter
0 ms – 10,000 ms. in 0.1 ms increments;
constant, uniform, normal distributions with or without reordering
accumulate & burst delay;
replay recorded latency from IPNetSim™ Recorder or file
Packet Loss Rate
0 – 100% in increments of 0.0001%
Loss and Corruption
random, burst, periodic, BER, or recorded packet loss; data corruption
Bit Error Rate
Rates to 1x10-14
Additional Emulation Parameters
packet reordering, packet duplication, frame overhead, separate inbound and outbound rate control.
Warranty and Support
Hardware warranty
1 year
Support and Maintenance
1 year, including all firmware upgrades
Interfaces
Emulation
4x SFP+ Dual Rate 1/10 Gbps auto-negotiate
Use any standard 10 Gbps SFP+ transceiver, 1 Gbps SFP transceiver, 1/10 dual rate SFP+ transceiver, or 1 or 10 Gbps direct attach cables
Management
1x Gigabit Ethernet
1x RS-232 serial console
Environmental and Physical Specifications
AC Input Voltage
Auto ranging 100 VAC to 240 VAC
AC Input Frequency
47 to 63 Hz
AC Input Current (Max)
2.0 A
Maximum Power Draw
240 Watts
Dimensions
17.0" W x 22.75" D x 3.5" H (2 RU)
43 cm W x 58 cm D x 8.8 cm H (2 RU)
Weight

Product

Shipping



39 lbs. (18 kg)

51 lbs. (23 kg)
Temperature
Operating: 0° to 40°C (32° to 104°F)

Storage: -4° to 167°F (-20° to 75°C)
Humidity
10% to 90% (non-condensing)
Certifications
FCC Class A, CE, RoHS
---
Ask a question about this product?
Your Name:
Email:
Your question:
Enter the code in the box below:
Other related products you may like