Network Surveillance System
Overview:
The SS7 network is the backbone for fast and efficient signaling irrespective of network type - whether wireless, wired, or VoIP. Also, the inherent database features of SS7 make today's advanced intelligent features and services a reality. To keep pace with this evolution, GL has enhanced its SS7 monitoring and diagnostic system. Not only can it be used for billing verification, remote protocol analysis, and traffic engineering, but now it can also provide key performance indicators, failure analysis, and call trace capability, to name a few.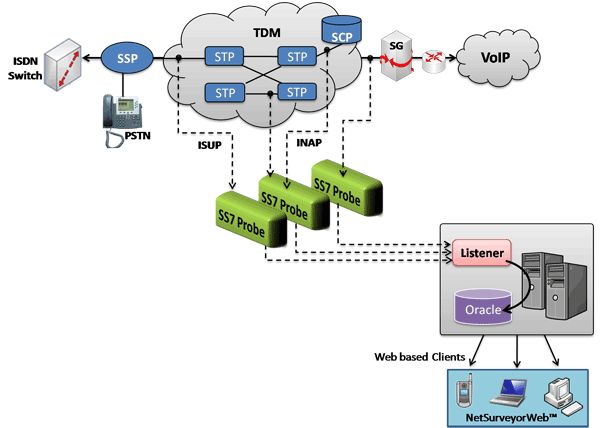 A network operator, service provider, or equipment manufacturer must have the means to perform the above surveillance tasks remotely, automatically, and non-intrusively. Fortunately, the network backbone contains a wealth of information that can be monitored and collected to support these activities.
GL's TDM Network Monitoring System uses an open three tier distributed architecture driven by non-intrusive hardware probes, intelligent software, and a database engine. The architecture is shown above and consists of a scalable and flexible system, so the user can use it for multiple sites and various applications. T1/E1/T3/E3 Probes are deployed in the field to monitor various protocols and conditions which are then collected at a central site into a database. Data records are stored into a centralized database (Oracle) using ODBC. With the use of web server, the remote / local monitoring can be accessed using simple web browser interface such as SS7 / ISDN NetSurveyorWeb™ or NetSurveyorWeb™ for T1E1 Physical Layer.
Typical Applications:
Call Detail Records, fraud detection and location, remote protocol analysis and troubleshooting, real-time signaling monitor, traffic optimization engineering, and statistics.
Determine actual call signaling routes to verify network functionality under all situations including congestion and loss of SS7 nodes
Revenue and billing verification, alarm monitoring, intrusive testing.
Quality of service measurements, call trace and recording.
Conventional Protocols:
CAS (R1- now, R2 - future), SS7 ISUP/TUP (Different Variants), SS7 ANSI AIN.
ISDN (4ESS, 5ESS, ITU, ETSI, BELLCORE, QSIG).
GR303, V5.X, INAP CS1 & CS2, INAP+.
Protocols for Mobile Networks:
IS41-C, GSM A and A-bis Interface, GPRS Gb, ETSI MAP.
---
System Architecture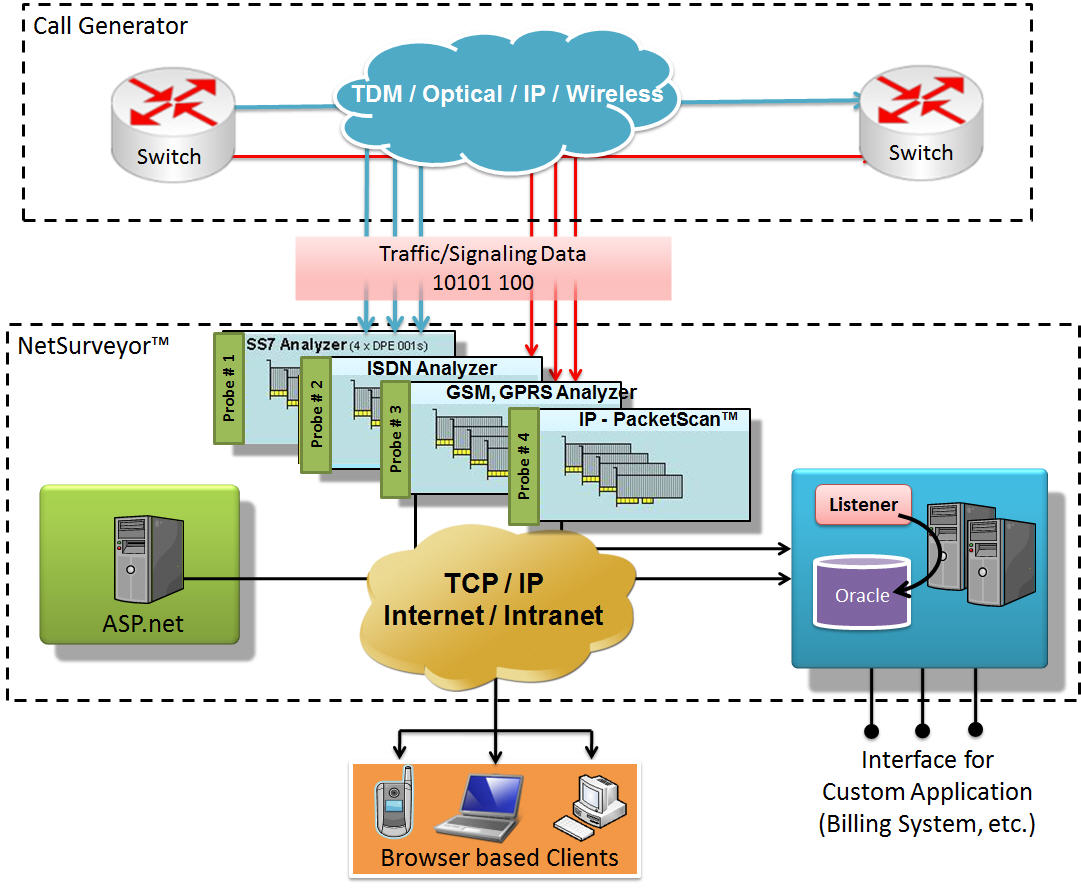 GL's NetSurveyor™ system has a three tier architecture. The first layer consists of GL's Protocol Analyzer Probes which are capable of tapping into live call traffic and non-intrusively capture signaling message summary and build CDRs. The second layer is the Database Store Layer where the captured data is stored. The last layer is the Data Access Layer where the data presentation logic is contained. Each of these components are briefly explained below.
The essential elements of the non-Intrusive network monitoring system are:
T1 / E1 Hardware probes: gather signaling details non-intrusively and forwards call detail records (CDRs) and statistics to a central database

T1 / E1 Probes non-intrusively monitor physical lines of the network.
The probes connect via TCP/IP to ODBC compliant real-time database loader.
Only precise and filtered data (user selectable) is collected into the centralized database.


Central database: stores the data collected by the probes. Records are stored into a relational database (Oracle) using ODBC.

Interface between the probes and the database is well defined and is called "Listener". Listener is located at the central site and is responsible for listening to the streaming data from probes and entering into the database (usually Oracle).
Listener is modifiable and supportable with MySQL.


WebServer: Facilitates real-time and historic views of the data through various 'browser based' clients.

NetsurveyorWeb™: The NetSurveyorWeb™ is a user-friendly web-based client which accesses the results provided by the GL's SS7 and ISDN signaling probes through a web server. As depicted in the screenshot below, one can view real-time and historic data including call ID, probe name/location, call disposition, called and called number, and call duration. Also available is the ability to filter the call records using a variety of filtering mechanisms including time/date, called/calling numbers, and SS7 OPC/DPC codes.
Users can log into the central system locally or remotely to view the collected data.
Users view the collected data for different purposes like Troubleshooting, Call Detailed Records, Traffic Monitoring, Quality of Service, etc.
Modular and distributed architecture is capable of theoretically 'infinite capacity'.
Click here to get an overview of the NetSurveyorWeb™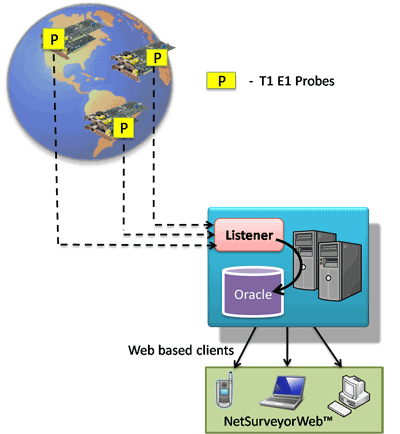 ---
T1 / E1 Probe Interface Characteristics
The traffic generated between switches is captured using GL's T1/E1 hardware probes with SS7 / ISDN Analyzer Applications. T1/E1 WCS server application should be running in order to send physical layer information to database loader.
A single probe can be configured to have up to four Dual T1/E1 cards capable of handling eight T1/E1 lines in one direction. To handle eight T1/E1 lines in duplex mode, we are using two probes; each consisting of four Dual T1/E1 cards. More information about the probe interface characteristics can be found here.
The probes non-intrusively monitor the network, and send CDRs and Signaling summary data via TCP connection to Database Loader (GL's Listener) application. Probe computers can pause and resume loading of data into database under control of the Database Loader. These probes could be controlled locally using the protocol analyzer application or remotely using GL's Client-Server application.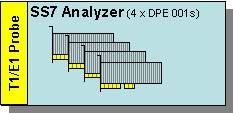 Platform types – Portable USB Dual T1/E1 units, Dual Universal T1/E1 Cards with multiple cards per PC, or Quad / Octal T1/E1 Cards per PC.
Multiple Link Sets per T1/E1 (through Digital Cross Connect Grooming) - multiple 64 kbps signaling channels per T1/E1 can be monitored simultaneously by grooming through a digital cross-connect - see diagram below.
T1/E1 Cards can also be connected non-intrusively in Monitor or Bridge Modes, or alternatively the data can be looped through the cards.
Scalable network solution for capture, analysis, and recording of TDM protocols (signaling, & traffic)
50 to 100 SS7 signaling links per 4U rack PC probe
Redundant configurations for reliability
Collection and transmission of processed signaling data to central site database
Web based access to near real-time CDRs and statistics
SS7 Redundancy supported
ISUP/INAP/MAP supported
Ask a question about this product?
Your Name:
Email:
Your question:
Enter the code in the box below:
Other related products you may like